PLOD OF THE MONTH FOR
November 2003

Goes to Inspector Earley for his comments in the Daily Mail
He'll have to get up EARLY in the morning to catch Mr Brown!

Dorset Police have spent rate payers money putting out 22,000 leaflets to every household in and around Christchurch. This is to supposedly name and shame Mr Brown, who for some reason has been a bit of a nuisance to the authorities. He has even vandalised the mayors car, we wonder why? In January 2004 Mr Brown was jailed by Bournmouth Majistrates for vandalising a Police Car. Why is Mr Brown so angry with the Dorset Authorities?

Barry Hunt of Weymouth asks the question, how many of Mr Browns convictions did Mr Brown plead not guilty to? Mr Browns side of the story has not been reported, and Mr Hunt questions, if any of the convictions were frame ups to make Dorset Police statistics look good. Mr Hunt further questions why Dorset Police threatened people who put out leaflets critiscising the Dorset Authorities?
To see a liable action taken at the rate payers expense against Mr Hunt : Click Here

To see how some families in Dorset put out leaflets critiscising the council : Click Here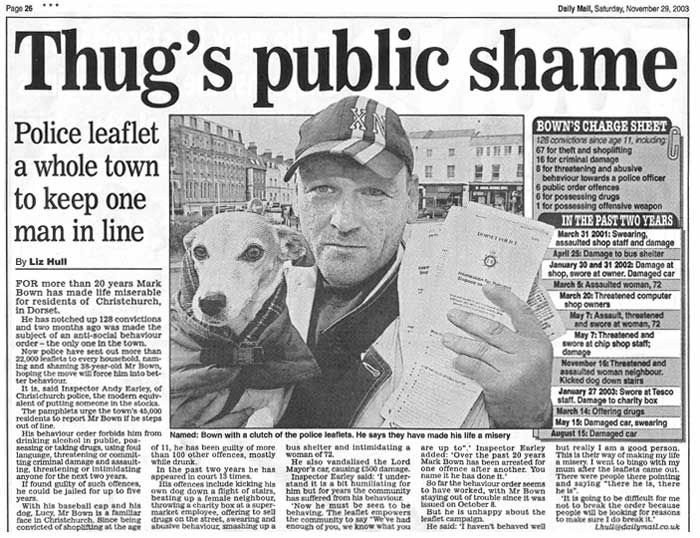 Somebody should tell Mr Brown about our organisation, perhaps he would like to distribute some leaflets showing the misconduct in public office from the Dorset Authorities?