A JOINT AWARD THIS TIME
PLOD OF THE YEAR FOR 2002

Goes to the Deputy Chief Constable Goerge Pothercary.

For his comment to the Western Gazzette on 12.09.2002,
where he states ...Officers lie Harmed Police Integrity.

Is this The Pot Calling The Kettle Black?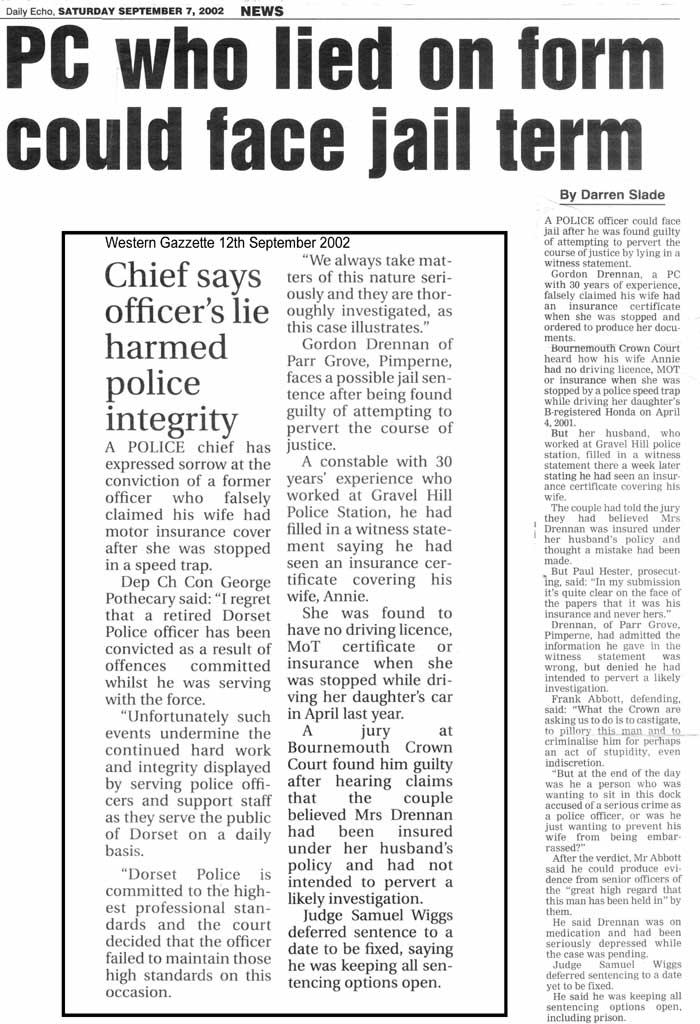 See The Official Criminal Allegations against Deputy
Cheif Constable George Pothecary, set out by london lawyers.
They aledge that George was involved in attempting to
cover up lying to an internet tribunal, in an attempt to
take over our sister site at

www.dorsetpolice.com

You can see how the poice authority promoted George
from assistant Cheif Constable to Deputy Cheif Constable
knowing he had an outstanding Criminal Allegation leveled against him.

Click Here To View The Evidence!

This gives him an increase in salery, and in his pension at the Dorset
Rate Payers Expense. George announced his retirement immediatly
after his promotion. If and when he is finally investigated for the offence of
misconduct in Public Office, or Perverting the couse of Justice, he will
also be a retired officer like the Counstable in the Press Article.

Isnt it strange that the former Cheif Constable Aldous
and his Deputy, May, also recieved pay rises just before
announcing their premature retirements, after Criminal Allegations
were made against them by Mr Coulter and His Lawyers.